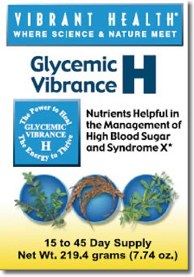 Glycemic
Vibrance H
Nutrients Helpful in the support of
healthy blood sugar levels*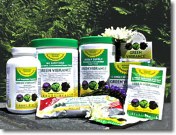 The Vibrant Health family of Glycemic Vibrance products includes:
Glycemic Vibrance H is a blend of concentrated natural foods high in fiber with trace nutrients, polyphenols, essential minerals, carnitine, botanical extracts and antioxidants recognized to help in the maintenance of normal blood glucose levels.*
Nutrients that are helpful in the management of High Blood Sugar and Syndrome X.
Glycemic Vibrance H Capsules are the portable version of Glycemic Vibrance H Powder. They are intended for (but not limited to) use away from home, after starting the day with a serving of powder in cool or lukewarm blueberry tea (best).
Glycemic Vibrance L, Glycemic Vibrance H Powder and Glycemic Vibrance H Capsules. Nutrients in Glycemic Vibrance H have been selected for their role in supporting normal insulin uptake at the cellular level by providing a correct balance of nutrients associated with normal glucose metabolism within cells.* Other ingredients inhibit the conversion of dietary carbohydrate to blood sugar at the border of the intestinal lining to help maintain normal blood sugar levels.*
Discussion
Antioxidant supplements can reduce peroxidation and improve overall antioxidant status. This product may, therefore, be combined with comprehensive antioxidant supplements on the order of Vibrant Health's Life Preserver, Green Vibrance, and Improved Tocotrienols. All supplements targeted for blood sugar management are most effective as part of a well designed whole food diet low in grain and starch, combined with exercise and a diet of multiple small meals rich in fresh vegetables and protein.*
Ingredients:
Supplement Facts

Glycemic Vibrance H Powder

Serving Size: 1 tablespoon scoop (4.88 grams)

Servings per container: 45

Glycemic Vibrance H Capsules

Serving Size: 3 capsules

Servings per container: 30

Amount per:

3 tablesoons

/ 3 capsules

% Daily Value

Chromium (from arginate)

100 mcg.

83%

Zinc (from Krebs cycle complex)

10 mg.

67%

Copper (from sebacate)

333 mcg.

16.7%

Manganese ( from Krebs cycle complex)

3 mg.

150%

Vitamin E (T30P E complex, 33.3 mg.)

3 i.u.

10%

Vitamin C (Ascorbyl palmitate, 33.3 mg.)

15 mg.

25%

Iodine (Norwegian kelp/Ascophyllum nodosum)

75 mcg.

50%

Vanadium (from vanadyl sulfate)

6.66 mg.




*

Momordica charantia ext.(7% bitters/0.5% charantin)

100 mg.

*

Pterocarpus marsupium ext. (5% pterostilbene)

167 mg.

*

Tinospora cordifolia ext. (2.5% bitters)

100 mg.

*

Ocimum sanctum ext. (NLT 2% ursolic acid)

67 mg.

*

Gymnema sylvestre ext. (75% gymnemic acid)

67 mg.

*

Cinnamon powder (Cinnamomum zeylanicum)

333 mg.

*

Malted Barley LMW protein extract

178 mg.

*

Blueberry leaf extract

(Vaccinium myrtillus; 16% chlorogenic acid)

250 mg.

*

Banaba leaf extract

(Lagerstroemia speciosa; 1% corosolic acid)

16 mg.

*

Green tea extract

(90/60/35% polyphenols/catechins/EGCG)

20 mg.

*

Alpha lipoic acid, NLT 99% pure

33.3 mg.

*

L-Carnitine & N-acetyl-L-carnitine (83.3 mg. each)

167 mg.

*

Gamma linolenic acid (borage seed oil powder)

60 mg.

*

Stabilized Brown Rice bran (in POWDER only)

1,000 mg.

*

Concentrated Brown Rice fiber (in POWDER only)

1,667 mg.

*

*Daily Value not established

Excipients: cellulose, magnesium stearate, vegetable stearine, cellulose coating.

Free of gluten, yeast, dairy products, nut byproducts, colorings, preservatives,

flavorings or any strong allergens. SUITABLE FOR VEGETARIANS.

None of what is recommend in this site is to be in leu of proper medical help. We do not treat disease in any way. We are here to educate you and give you information on the alternative processes available to you so that you can make informed decisions and take charge of your own health issues. We do not accept any liability for the advise and products we offer. We are required to advise you that none of the information or products offered on this site is accepted by the AMA nor the FDA. Please be advised and always seek professional medical advise when undertaking any suggestions in this site.
©2012All Rights Reserved.
This Web site contains copyrighted material,
trademarks, sale of, create derivative works of, on in any way exploit, in whole or in part, any
material is strictly prohibited. All photo's are owned by C. Adelle Schultz